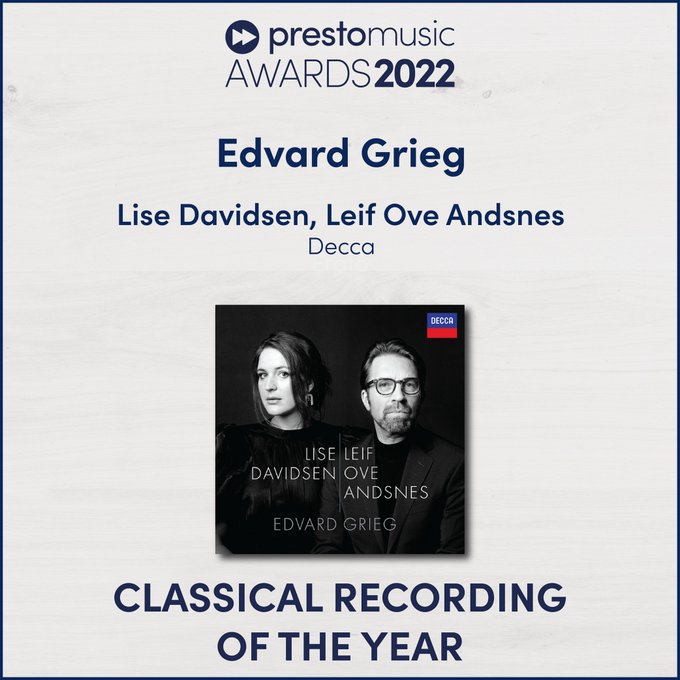 Recording Of The Year
Lise and Leif Ove Andnes's Grieg album has been chosen as one of Presto Music's Recordings Of The Year.
The Presto editorial team explained they chose the winners because they were: "The albums which really made us listen afresh to core repertoire, told absorbing stories through their imaginative programming, or made compelling cases for music that was new to us all."
Katherine Cooper, Head of Editorial (Classical) at Presto, said of Lise's Grieg recording: "This is one of those albums where the synergy between the two artists and their mutual affinity with the repertoire combine to truly spellbinding effect. Davidsen may be destined for Isolde and Brünnhilde, but she's also capable of extraordinary delicacy when painting on a smaller canvas – and Andsnes backs her to the hilt throughout."
Presto Music is the UK's leading ecommerce site for classical and jazz recordings (CDs, DVDs, high quality downloads and vinyl), printed music, music books and musical instruments. Founded in 1986 as a small high street shop, the Presto Music website was started in 2001 and has grown into one of the most significant online sites for music products in the world.
You can buy the album on Presto here: https://www.prestomusic.com/classical/products/9265632--grieg