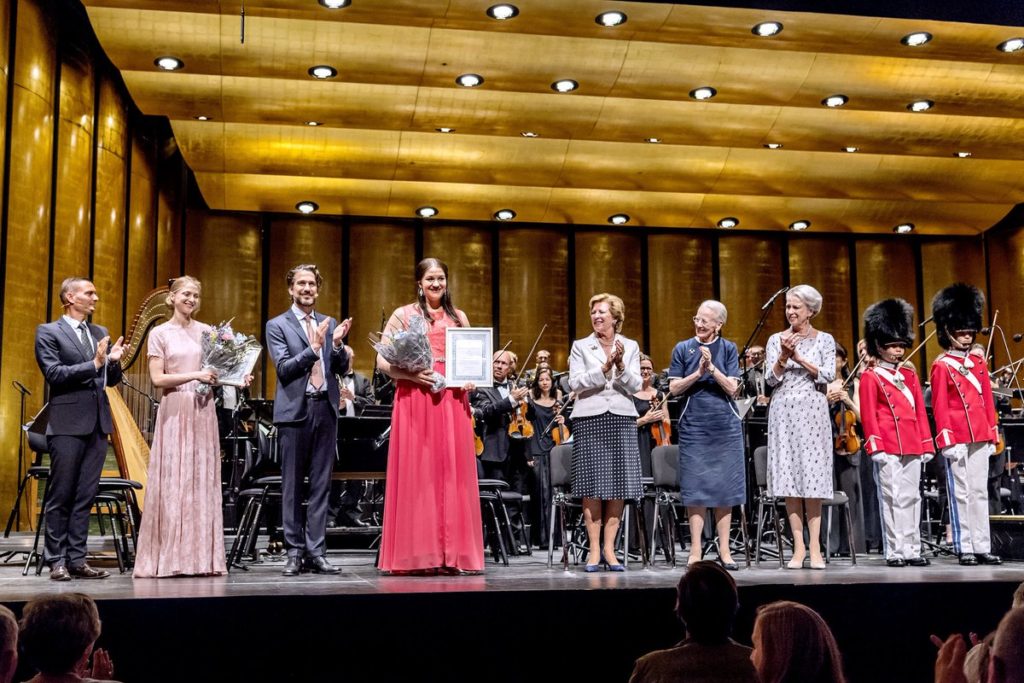 Lise receives Queen Ingrid Prize in Copenhagen
On 24 June Lise was honoured with the Queen Ingrid Prize onstage at the Tivoli Concert Hall in Copenhagen. She was presented with the award by Queen Ingrid's three daughters, Queen Margrethe II of Denmark, Queen Ann-Marie of Greece and Princess Benedikte. The Queen Ingrid Prize aims to support young artists in music and dance, and this year was also awarded to ballet dancer Astrid Grarup Elbo of the Royal Danish Ballet.
Her Royal Highness Princess Benedikte said:
"It is with great pleasure that this year we can award the Queen Ingrid Prize to two promising young artists: opera singer Lise Davidsen and ballet dancer at The Royal Ballet Astrid Grarup Elbo. We hope with the Queen Ingrid Prize to contribute and assist these two promising talents in their career. Supporting young artists in music and dance with this legacy and at a festive event is in full compliance with our mother's wishes. My sisters and I are very happy and grateful that we can divide this legacy and commemorate our mother. "
Tivoli's Deputy Director of Culture Nikolaj Koppel said of Lise:
"Most of the world has already surrendered to Lise Davidsen's lyrical soprano voice. And for good reason: Davidsen possesses outstanding vocal quality and an eminent technique that combines volume and sensitivity. Lise Davidsen has long been promising a great career, and Queen Ingrid's Prize will undoubtedly help her to achieve her future course."